News
Check here for information about Anne's latest and forthcoming projects.
North Yorkshire Open Studios
23/04/2019
Anne is participating in the North Yorkshire Open Studios, along with her husband Paul (Blackwell), this year. An opportunity to visit the studio and talk to the artist. The event takes place on June Sat 1st , Sun 2nd, Sat 8th and Sun 9th of June, 10.00am - 5pm. All welcome.
www.nys.org.uk
New Work gone to Coast Gallery.
31/01/2019
Coast Gallery Cloughton, Scarborough. Lovely Gallery were you can get a great coffee and good food.
Also gone to Coast.
Also at coast.
Also at coast
Also at Coast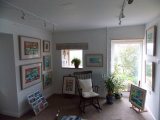 11/03/2017
Anne's studio, which she shares with her husband Paul Blackwell, has been improved recently. Photos of the new studio can bee seen in the Studio Gallery.
...more