News
Check here for information about Anne's latest and forthcoming projects.
The Fylingdales Group of Artists.
08/07/2019
Anne is currently showing work at the Fylingdales Group of Artists Annual Exhibition at the Pannett Art Gallery Whitby. The show runs until 4th August.
New Work gone to Coast Gallery.
31/01/2019
Coast Gallery Cloughton, Scarborough. Lovely Gallery were you can get a great coffee and good food.
Also gone to Coast.
Also at coast.
Also at coast
Also at Coast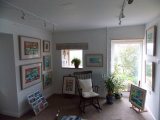 11/03/2017
Anne's studio, which she shares with her husband Paul Blackwell, has been improved recently. Photos of the new studio can bee seen in the Studio Gallery.
...more