News
Check here for information about Anne's latest and forthcoming projects.
No News, Lockdown.
08/11/2020
You can view Annes new work in the Recent Work Gallery.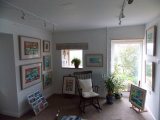 11/03/2017
Anne's studio, which she shares with her husband Paul Blackwell, has been improved recently. Photos of the new studio can bee seen in the Studio Gallery.
...more